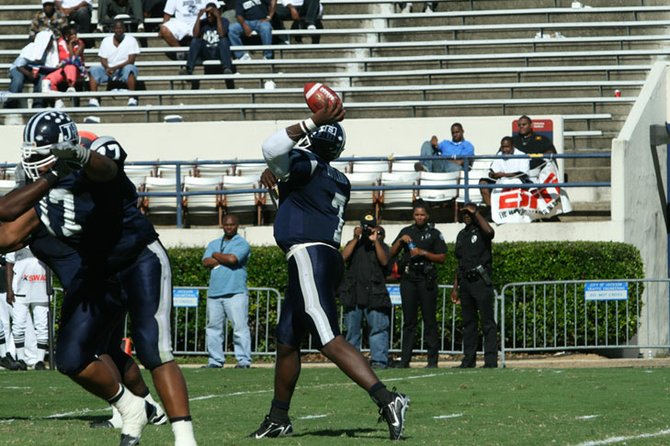 PHILADELPHIA, Pennsylvania -- A team that wins a conference championship generally has something the competition is lacking.

In the year of the quarterback in the Southwestern Athletic Conference, that isn't such a good thing for reigning champ Southern.
The Jaguars have a need at quarterback because they must replace Dray Joseph, who shared 2013 SWAC offensive player of the year honors as a senior.
Veteran quarterbacks are widespread in the 10-team conference that on Friday installed Southern as the favorite in the West Division as well as Alabama State atop the East Division.

"A lot of defensive coordinators are going to stay up late," said Prairie View A&M head coach Heishma Northern, whose team is led by one of the SWAC's top quarterbacks in senior Jerry Lovelocke.
"If you look all throughout the conference, everybody has a quarterback pretty much with the exception of Southern that has game experience or has played a part of the games or may not have played due to injuries. But it's a lot of people with experience that's going to be able to help their teams in the long run."
The only team besides Southern that is replacing its starting quarterback is Jackson State, which lost to the Jaguars in the SWAC championship game. But the Tigers return redshirt sophomore LaMontiez Ivy, their former highly-touted recruit who was their season-opening starter last year before he suffered a fractured fibula and dislocated ankle against Tulane and missed his second consecutive season. He is hoping to be ready for the Tigers' season opener on Aug. 30.
Headlining the strong class of QBs are Alcorn State junior John Gibbs, Arkansas-Pine Bluff senior Ben Anderson and Lovelocke. Each signal caller accounted for at least 25 touchdowns last season and Anderson enters the 2014 season as the preseason offensive player of the year for a second consecutive season.
Ironically, Lovelocke was named to the preseason first team over Anderson. Twenty-five players were named to this year's preseason teams as a result of receiving 2013 All-SWAC honors, and in the event that a player was named to the first team but did not return this year, the second-team player at the position - like Lovelocke - was elevated to the first team.
A year ago, Anderson led the conference in total offense with 3,611 yards (2,787 passing, 824 rushing). Lovelocke, more of a pocket passer, totaled 2,838 yards through the air and 284 on the ground, while Gibbs passed for 2,567 yards and rushed for another 455.
Alabama State junior Daniel Duhart also comes off a solid season, while dual- threats Homer Causey of Texas Southern and Patrick Ivy of Mississippi Valley State are seeking to lift their passing numbers.
Senior Jaymason Lee and junior Brandon Wells return at Alabama A&M after splitting the quarterback duties last year. The same thing occurred at Grambling State, but senior D.J. Williams, who was the starter as a freshman for the 2011 SWAC champion Tigers, has more experience than junior Johnathan Williams.
The many veteran quarterbacks figure to raise the level of play in the SWAC even though Southern will have a QB competition in preseason camp (redshirt freshman Deonte Shorts is the frontrunner). In Joseph, the Jaguars are replacing a quarterback who threw for 3,573 yards and 30 touchdowns last year.
Alabama State linebacker Kourtney Berry, only a sophomore, was named the preseason defensive player of the year.
Alabama State, Arkansas-Pine Bluff, Mississippi Valley State, Prairie View and Southern are under NCAA Academic Progress Rate penalties and aren't eligible for the FCS playoffs (with an at-large bid), but the SWAC will allow them to play in the conference championship game if they win their respective division.